Each year, the Catholic School Divisions in Saskatchewan engage in a week-long celebration of the unique identity and distinctive contributions of Catholic education during Catholic Education Week. This year's celebration is entitled, "Catholic Education: We are Many, We are One." The theme was inspired by the Church's synodal process and the ongoing recognition of the Truth and Reconciliation Calls to Action.
There are five sub-themes, one for each day of Catholic Education Week. The five sub-themes for Catholic Education Week illuminate the path to being many and one. Here are the subthemes:
Monday: When we see / En voyant
Tuesday: When we listen / En écoutant
Wednesday: When we reflect / En réfléchissant
Thursday: When we learn / En apprenant
Friday: When we act / En agissant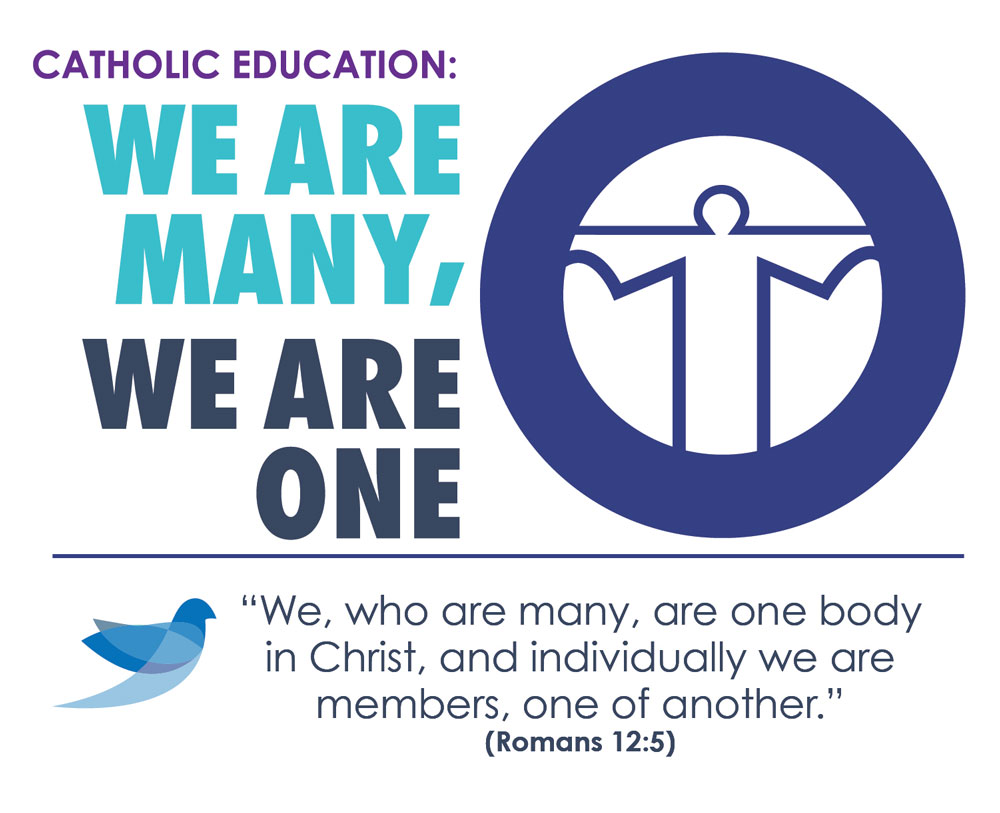 Parish / Church Bulletin Insert:
The (insert school system name here) schools invite all parishioners to celebrate Catholic Education Week 2023 during the week of May 14-20, 2023. In celebrating this year's theme, We are Many, We are One, the students and staff will focus on how we see, listen, reflect, learn and act to grow as individuals who work with one another to share the love of God. Daily prayer, scripture sharing and call to action will encourage everyone to participate fully on their faith journey. Please feel free to join in other special activities by contacting your local school to find out more.
Intention:
For the students, staff and families of the (insert school system name here) … may they, through a focus on the celebrations and activities of Catholic Education Week, experience joy and understanding in living out the call of our Lord to continually grow in faith … we pray to the Lord.
Introduction message:
During the upcoming week, the students and staff of our (insert school system name here) School(s) (insert school name here) will enjoy many opportunities to recognize Catholic Education Week in Saskatchewan. With the theme of We are Many, We are One, all will be reminded that they have been called to grow as an individual but also to grow in community. Through the sharing of prayer, scripture and calls to action, all persons will be given the opportunity to experience our faith in their Catholic Education setting and give thanks.
We, the parishioners of _____________________________ Parish, are asked to recognize this week by offering prayer and joining in the celebrations. More information about the events open to our attendance can be discovered on the school website in the calendar displayed.
This is a special week in our schools as we
celebrate the joy and hope of Catholic Education.
Resources for Use
Liturgy of the Word Plan for Catholic Education Week 2023
PDF: Catholic Education Week 2023 Elementary Prayers for the week
PDF: Catholic Education Week 2023 Senior Prayers for the week
Youtube: (available Monday May 15, 3:00AM) https://youtu.be/L5Ux8UoJIzg
WE ARE MANY, WE ARE ONE
À plusieurs, nous sommes un
God calls us to be united and for all God's people to be one. We come to greater unity when we see and embrace our differences and all that makes us unique. Today, we work together in Saskatchewan to rebuild, restore and renew our relationships with our students and the great people across our province. As a community we must walk together and work towards a common goal of creating an inclusive and respectful learning enviornment. We can achieve this by integrating Indigenous perspectives and knowledge into the curriculum, celebrating Indigenous culture and fostering meaningful relationships with Indigenous communities. It is an honour to celebrate Catholic Education Week this week and to practice our faith with families each and everyday in schools.
#CEWSK
#
CatholicEdSK
#WeAreManyWeAreOne