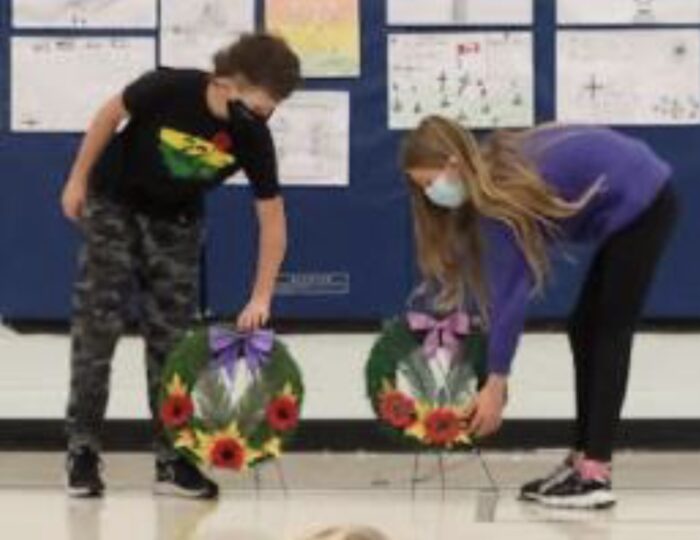 On Wednesday, November 10, 2021, St. Olivier School located in Radville, SK had the privilege of participating in a very special Remembrance Day Service. The annual celebration is a time to honour and remember the men and women who have served – and continue to serve – Canada during times of war, conflict and peace. This year's event was made by special by the presence of Master Warrant Officer (MWO) Kirby Dionne and members of the Royal Canadian Legion No. 236 branch. MWO Kirby Dionne gave a presentation to the students and staff explaining the importance of Remembrance Day. MWO Dionne took time after the service for a question and answer session about his role in the military. 
St. Olivier School would like to thank MWO Dionnne and all members of the Royal Canadian Legion No 236for taking time to be with our students on this important day.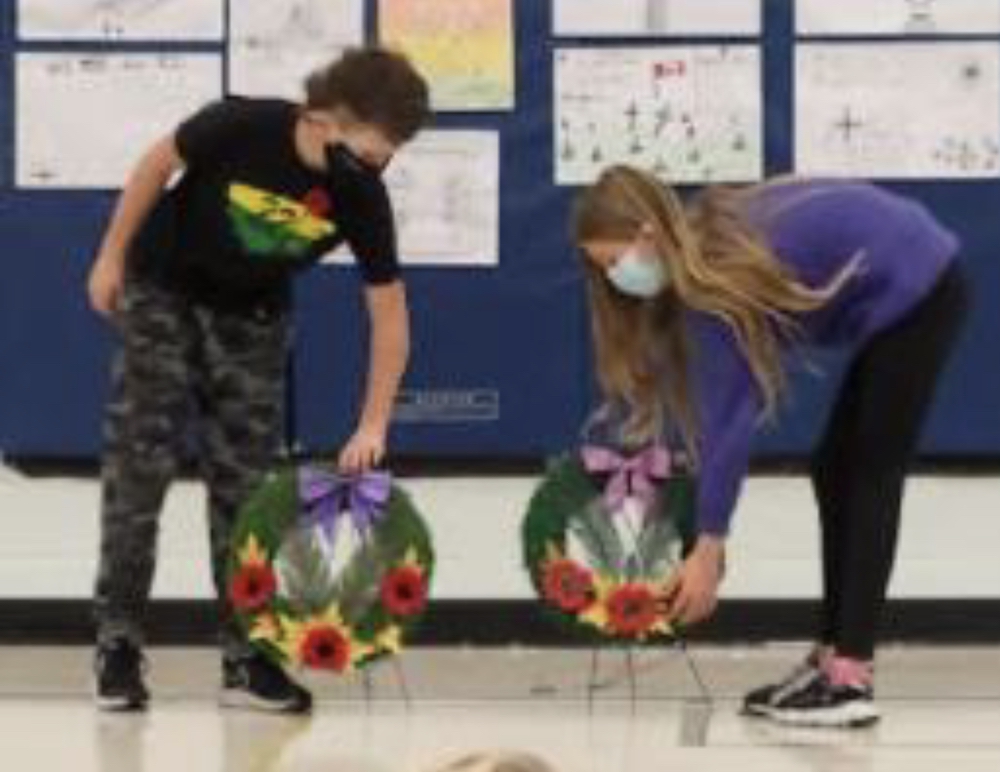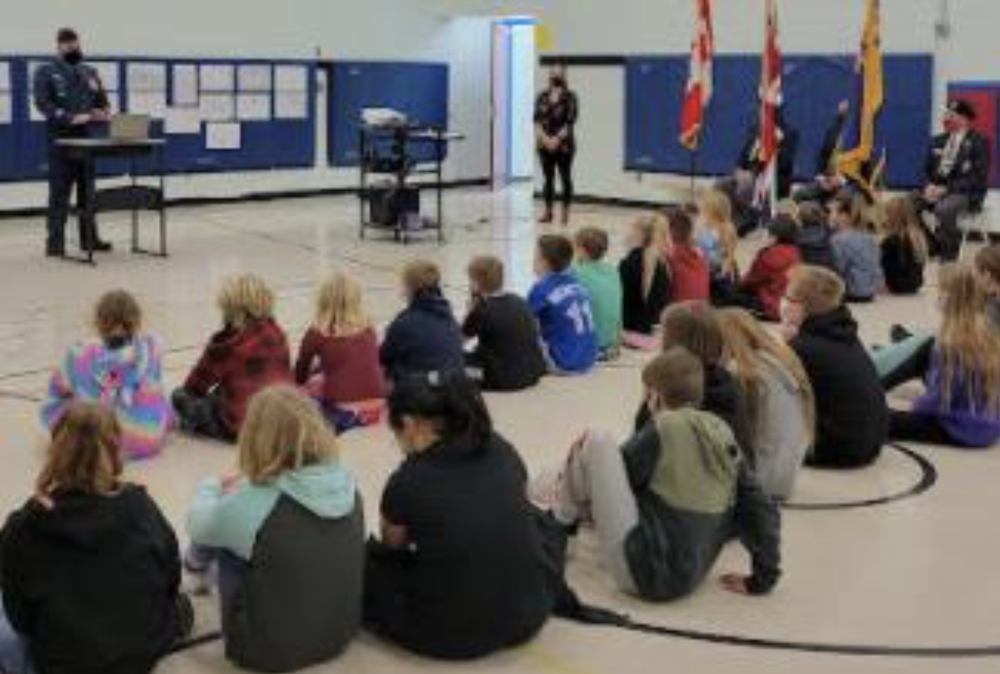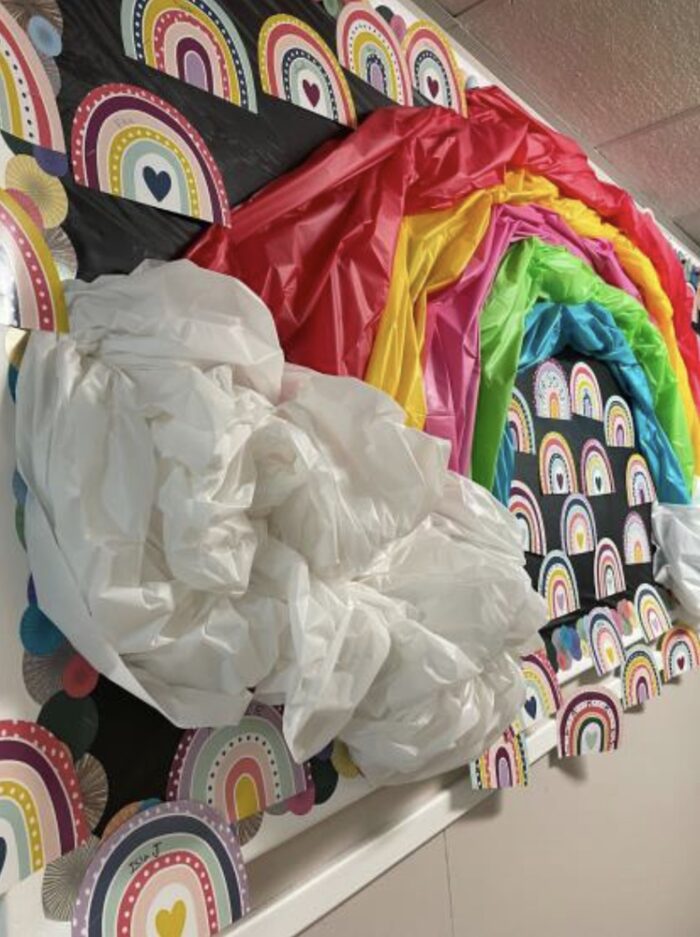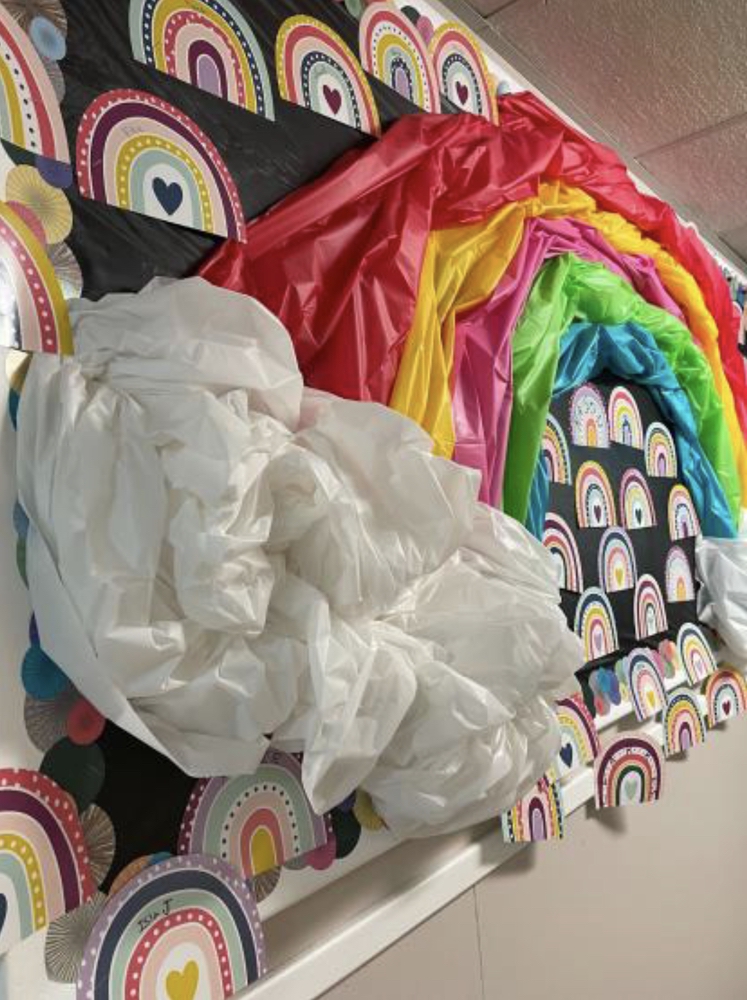 When walking through the hallways of St. Augustine School one discovers that the feelings of warmth, excitement and hope are embedded not only in the students and staff, but in the physical building to which we gather. A giant rainbow is displayed on a bulletin board for all to see; a rainbow of hope, a rainbow of peace, a rainbow of unity. 
As the 2021-22 school year started, the St. Augustine Staff was determined to make this year hope-filled and peaceful where the students and staff could join together to celebrate all of our students and their abilities. They truly were focusing on the rainbow at the end of the storm rather than any of the dark clouds that may loom over them throughout the year. The concept of ARC DAY was introduced. ARC – Accepting, Respecting and Celebrating Diversity – would take place all year as a means to recognize the God-given gifts and abilities that make each and every student who walks through the St. Augustine School doors a positive contributor to the culture and environment. 
The School Community Council purchased white t-shirts and tie-dye kits so that every student and staff member could tie-dye a shirt. This shirt was designed to be worn on the various days in the year that are celebrated as a school: Orange for Truth and Reconciliation, Pink for Bully Awareness, Blue for Autism Awareness, etc. On these specific calendar days, students are reminded that, although there may a single day set aside for acknowledgement, one should recognize them every day of every month of the year. 
Each month, an ARC DAY is hosted. Everyone is encouraged to wear their shirt and the staff facilitate an activity that has to do with developing relationships and connecting with peers, all the while celebrating all of the unique and special abilities each of our students have. 
God's work is definitely evident in the wondrous efforts of students and staff during the celebrations! Much like a rainbow, they shine with hope, peace and joy.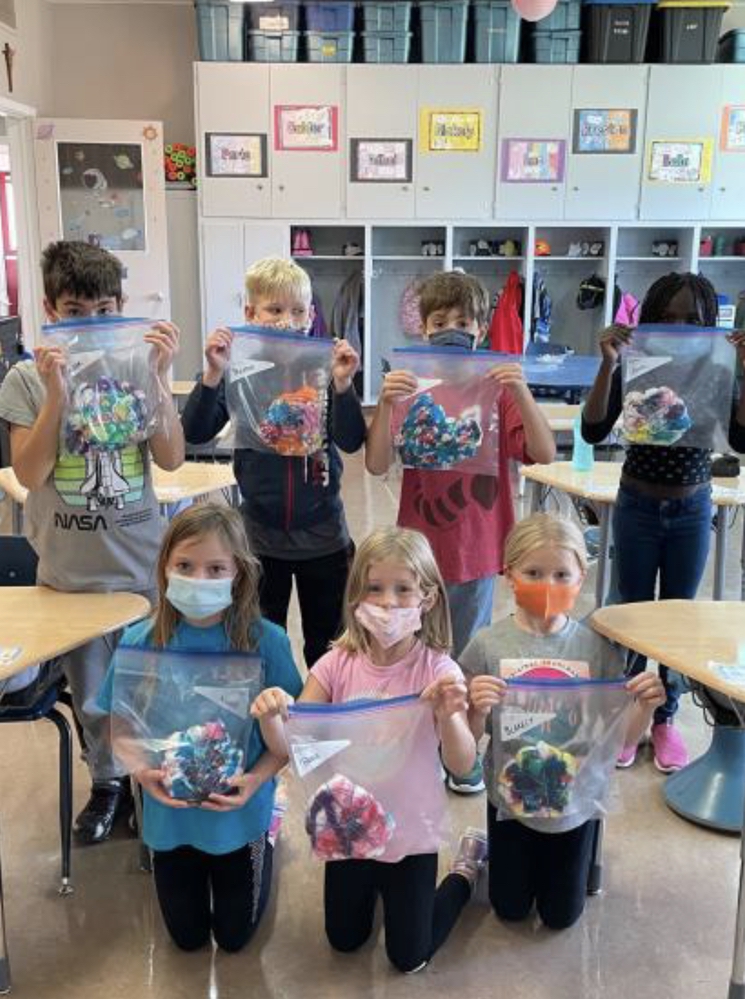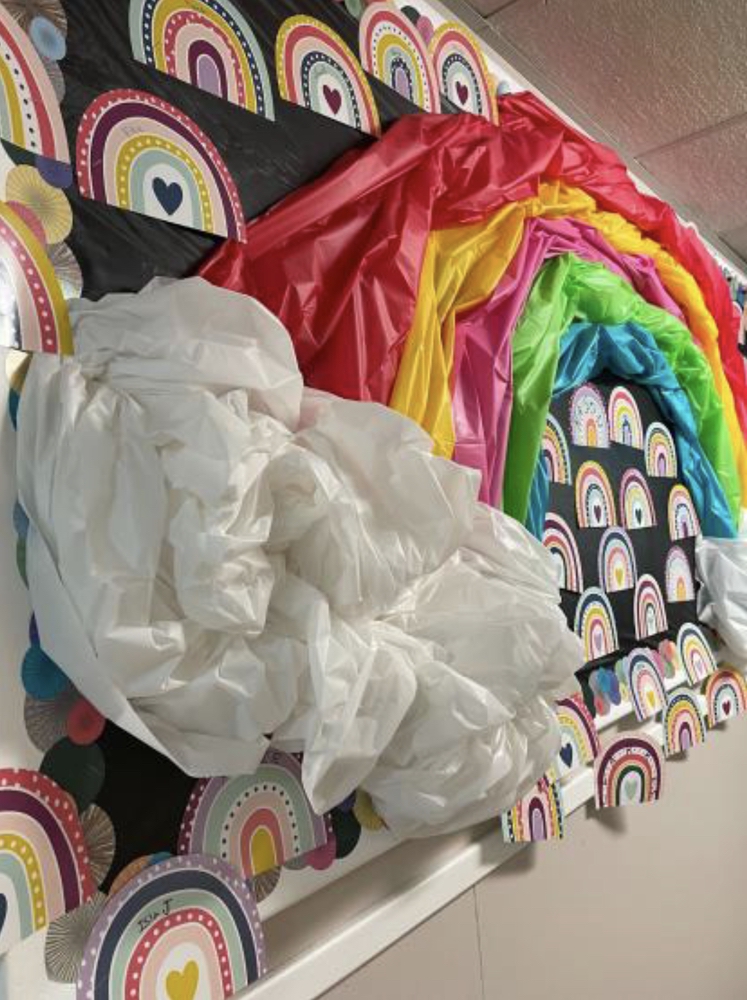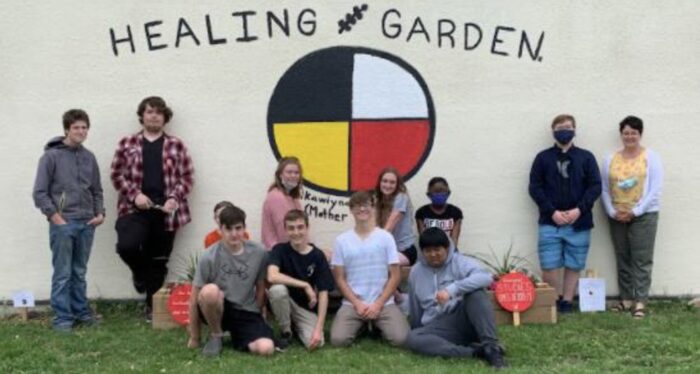 The Grade 9 students of St. Michael School, Weyburn, SK who are enrolled in an Indigenous Studies course completed the construction of a Healing Garden as the 2020-21 school year came to a close. The garden was developed in honor of Okâwîmâwaskiy, Mother Earth. Thanks to funding provided through a partnership with Ecofriendly Saskatchewan and WWF Go Wild, the garden possibility came to be. 
Items purchased for placement in the garden were: cedar chips for ground cover, cedar shrubs, dogwood shrubs, exterior paint, walking pavers and lumber for the construction of a bench and flower planters. The Grade 9 students built the bench and flower boxes, painted the medicine wheel, created the information signs and donor signs as well as all the digging, planting and rock placement. Extra help was provided by Grade 7 students who dug in the walking pavers. 
When the garden was fully complete and opened to the students, they were very excited to be able to walk through the garden, learn about First Nation culture and enjoy nature. When the guiding teacher was explaining the garden to the students, she was very encouraged to find that so many of them already had an understanding of traditional indigenous medicines, plants and the medicine wheel. The garden will be a great enhancement for learning in the years to come. 
Holy Family RCSSD #140 is grateful to our staff for providing deep learning experiences that encourage our students to understand, to value and to grow in knowledge and skill. Special thanks to Ms. Joanne McLeod for her leadership in the Indigenous Studies course.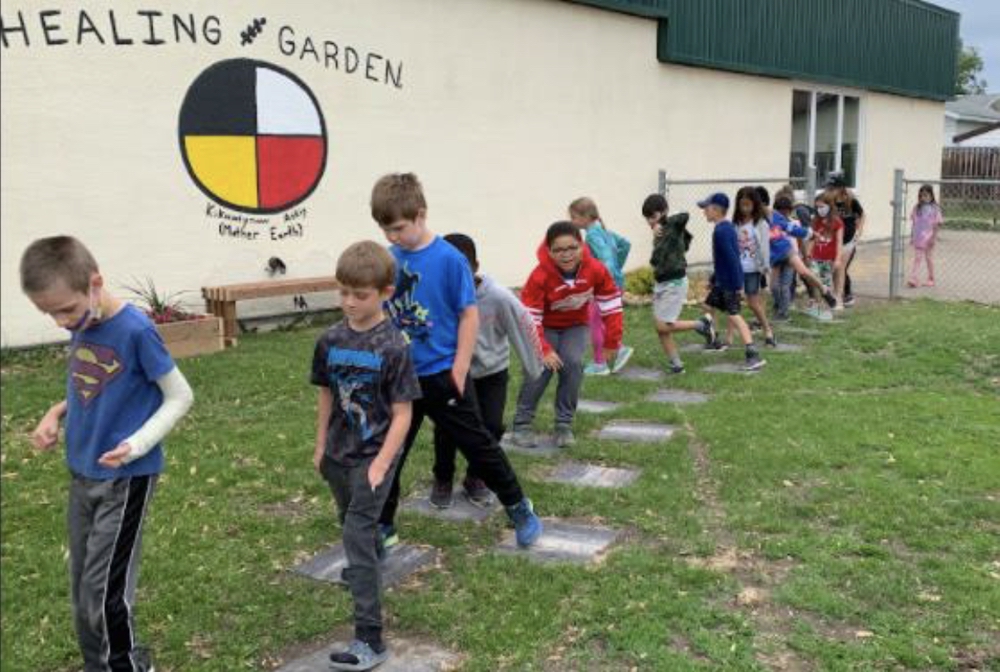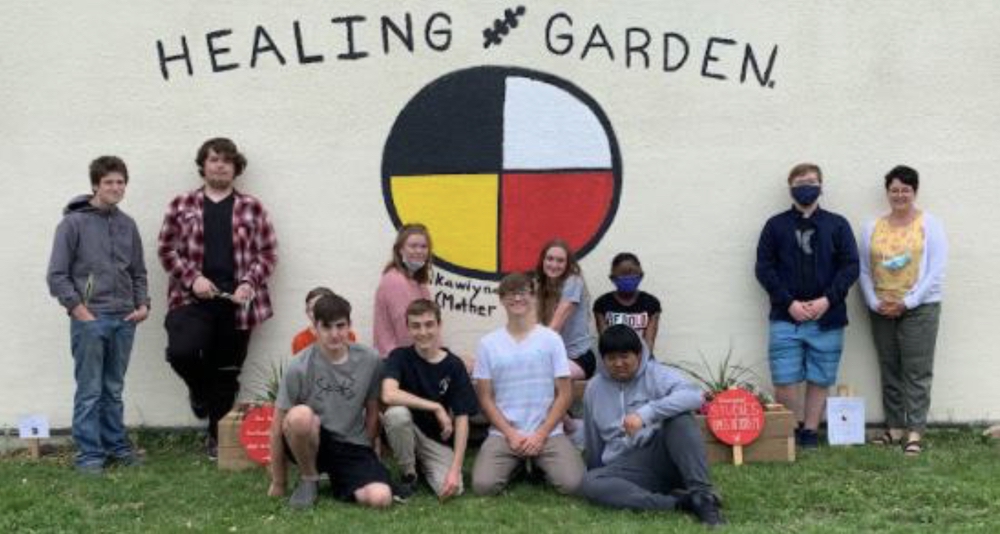 June 2021:
June 2021 Good News Story SHSC

May 2021:
Virtual Pals St. Mary's Good News Story May 2021

April 2021:
St. Michael School _Better Together_

March 2021:
Pivoting to Remote Learning in Our Church St. Olivier March 2021

February 2021:
Caring & Kindness Warming Hearts

January 2021:
Sacred Heart Sacré Coeur Shares Good News

December 2020:
Good News Story December 2020

November 2020:
Max and Dax- Chapter 2

October 2020:
Stuffing Bunnies2

September 2020:
St. Augustine Good News Story-September 2020

May 2020:
St. Augustine School Connected & Caring

January 2020:

"GFL Estevan Partnership"
December 2019:
"St. Augustine Good News" 
"St. Olivier Staff at Regina Food Bank"
"The Story of Max and Dax"
February 2018: The community of Wilcox is in the process of creating a cenotaph for their town
January 2018:
St. Olivier School in Radville shares:
Christ In Christmas Cards
During the season of Advent, every student in Kindergarten through Grade 6 makes a Christmas card to give to residents of our local care home at the Radville Marian Health Centre. The purpose of the cards is to demonstrate the true meaning of Christmas - the celebration of our Lord and Saviour, Jesus' birth.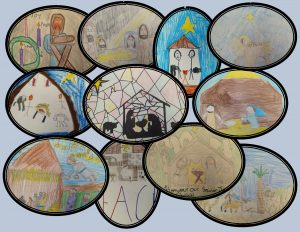 November 2017:
Each year St

October 2017:
October Good News Story

September 2017:
June 2017:
St. Michael's May and Mother's Day
May 2017
March 2017:
March-2017-Holy-Family-recent.pdf
February 2017:
December 2016:
November 2016:
October 2016:
September 2016:
June 2016:
May 2016
April 29, 2016:
Streaming the Light of Christ at St. Mary's School in Estevan
The season of Lent is always exciting at St. Mary's School. Our annual theme of "Streaming the Light of Christ upon our 21st Century Footprints" made it easy for us to work towards spreading Christ's Light throughout the season of Lent. We officially began our journey through Lent with an All Schools Mass on Ash Wednesday.  Father Brian Meredith presided over the mass with a combined praise choir leading the singing. Grade seven students from both St. Mary's School and Sacred Heart/ Sacre Coeur served in the ministries. Our church community joined us in celebrating the beginning of Lent filling St. John the Baptist Church to the brim.
St. Mary's Kindergarten, Grade 2, 4, 6 and 8 teachers teamed up to make the Lenten journey a very enlightening one. We learned about the Corporal Works of Mercy during assemblies. A combination of students from each of these grades presented at the assemblies.  Each week, we were given a special mission to complete. Three of our missions were focused on helping out our community.  Our school collected food for the hungry. A representative from the Salvation Army in Estevan spoke at our assembly to explain how our Food Bank and Warm Welcome Homeless Shelter work. We also collected food and supplies for the Estevan Humane Society to help with the animals who are homeless or abused. Our guest, Terry, explained how animals are left at the shelter and how we can be responsible for our pets.  Our final community Work of Mercy was to visit and decorate the Estevan Regional Nursing Home for Easter. Each classroom made Easter decorations and Mrs. Pylychaty and her grade 4's visited with the residents and decorated the walls with our crafts. It looked wonderful!
We also worked on showing mercy to everyone in our school family.  One mission was to make sure that no one was left out on the  playground. We made it our mission to play with one new friend at recess or lunch. We all worked hard to make our school family a warm and welcoming place. Lent helped us see that we all can play a role in building the Kingdom of God right here.
Three of our grade 7 students worked especially hard to teach everyone how to be merciful during this Lenten season.  Our school has a tradition of celebrating Shrove Tuesday with a community breakfast. All the proceeds go towards the St. Joseph Hospital Foundation. The Grade 8's on our service team prepared and served the delicious pancake breakfast.  The grade 7 students ensured that the mercifulness continued all week with a PJ week. Participants paid a dollar a day to relax in pajamas. A 'Pie in the Face Day' was a great success. Students paid $5.00 per ticket to smoosh a plate of pudding in the face of a favourite teacher of their choice.
In total, from all fundraising efforts, St. Mary's students, families, and staff successfully raised  $1280.70 which was presented to the Foundation during the annual telethon  on April 14th.  It truly showed how, with a good plan and belief in your fellow students, great things can happen!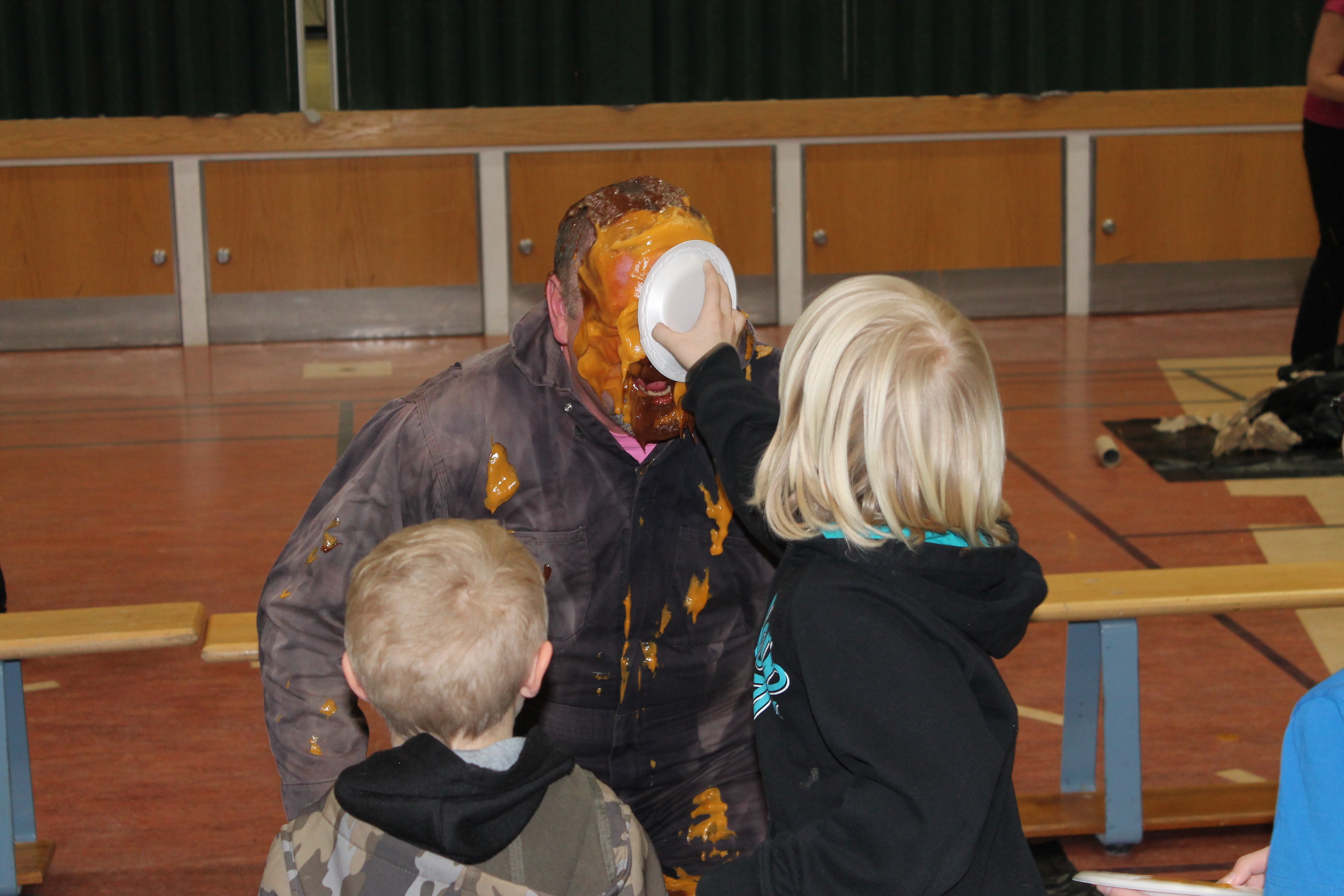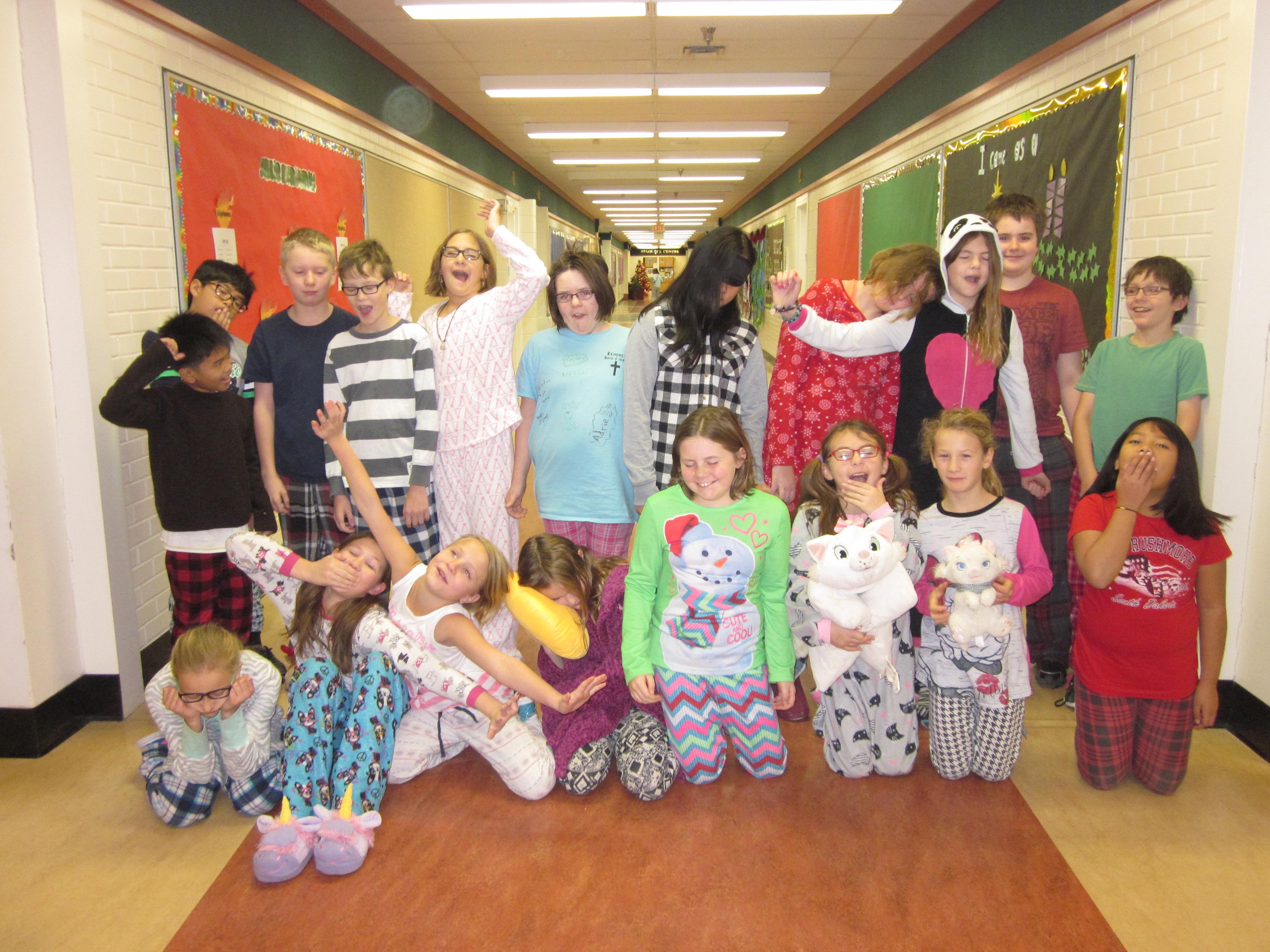 March 14, 2016:
St. Michael School, a Prekindergarten to Grade 9 campus, in Weyburn, SK has been blessed to welcome a NET ministries Infuse team throughout the year. The NET members visit during class and break time so that they may have an opportunity to meet with the youth and encourage them to become further involved with parish life. They offer youth groups, sports nights, music ministry and other great events for the youngsters to participate in as well as join them in celebrating Sunday mass.
The NET members have presented in a variety of formats including a skit to share the the importance of mass with the K-5 audience. Their skits are often very humorous and entertaining. NET has encouraged our youngsters to share their faith and become involved in parish life.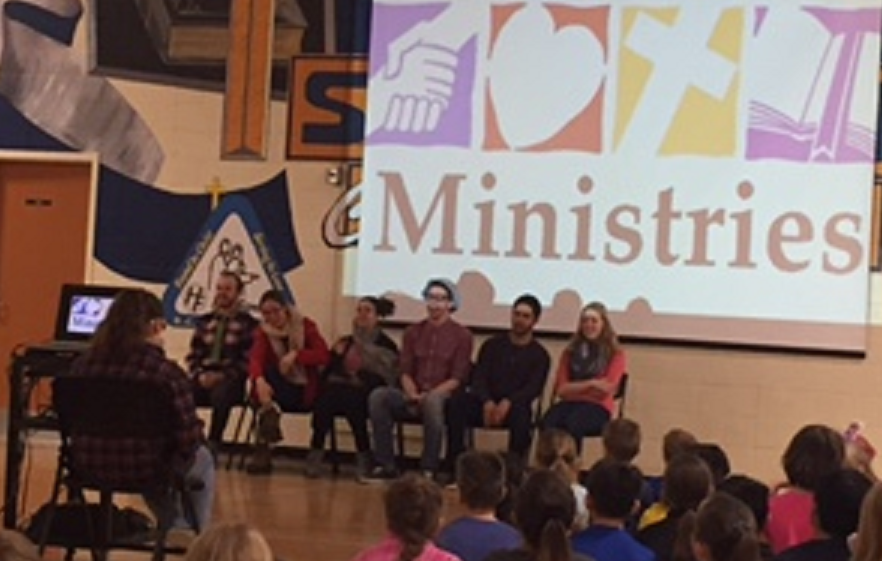 January 25, 2016:
St. Olivier School in Radville, Sk makes regular visits to the Health Centre to connect with the elderly citizens of the small rural community. On some occasions, the students prepare special presentations while on others they spend time visiting with the residents to share stories and be a neighbourly friend. On this special day, the students had prepared for their annual Christmas Festival and took their show on the road! Imagine the principal's, Darrell Perras, delight when he later received this picture from Father Tony Pangan who had joined in the celebration.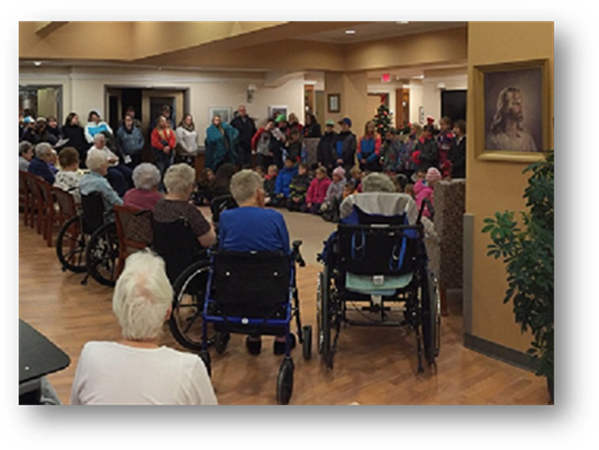 ---
St. Augustine School in Wilcox, Sk presents a Christmas program each year on the altar of St. Augustine Parish. Stage adaptations are made the pews are always filled with family and friends. It is not very often that every student in the school can be featured on stage at the same time. Pictured singing are all students from Kindergarten to Grade 8. Even the small pre-schoolers take the microphone for a presentation of recitations they have worked so hard to memorize and vocalize!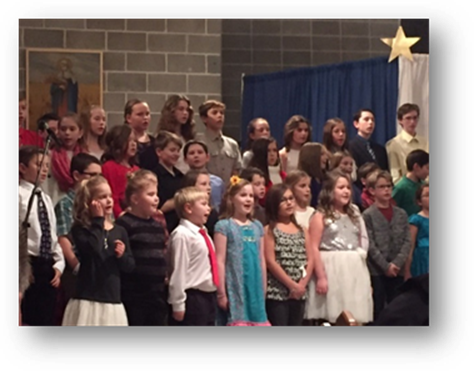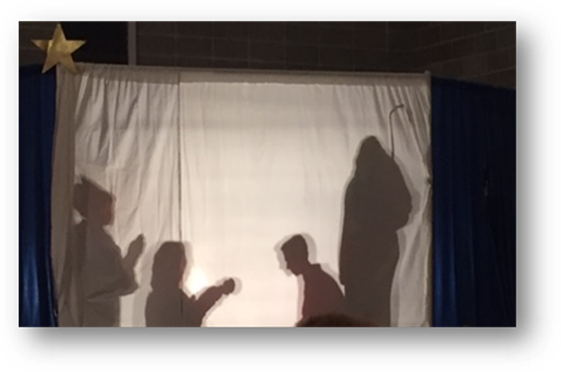 The Christian Ethics students in Weyburn, Sk have been blessed with weekly visits by the Infuse team that has come to St. Vincent de Paul Parish for the year. Infuse is a division of NET Canada. These seven young adults have made weekly visits to give witness to their personal faith journey, to evangelize and to share in the study that the CE students are undertaking. Infuse offers out-of-class activities each week to encourage students to remain connected, or perhaps reconnect, with the life of the parish.